Breathe Technology overview
"At Breathe, we work hard to deliver the best Infrastructure Projects and Managed ICT Support that money can buy and have a great track record within Academy Trusts, MAT's, Individual Schools, Colleges and Private Schools."
Our Managed Service (Proactively Managed I.T. Support) is also delivered in a different way than the 'old fashioned traditional helpdesk' that you may be familiar with.
"It's a balance of the ultimate skillset and a touch of personal service"
1. What makes us the best at what we do?
We offer our customers a 'more personal service'
It's all about the relationship and customer experience!
Yes, we have a helpdesk … but we only offer a level/tier 3 helpdesk, which has the highest skillset.
No more tier 1 (call logger), tier 2 (basic problems) and then finally tier 3 (the guys that actually know their stuff).
However, we take it a step further.
You are allocated a Dedicated Technical Lead and Account Manager that will understand you and your network. They become your primary point of contact…
Your team will know you and you will know them…rather than the 'old fashioned' approach of offering break fix support when you call a stranger on a helpdesk.
2. Your Technical Lead will have the Ultimate Skillset
Each Technical lead is trained to have the Ultimate 'All in One' Skillset, including Desktop, Server, Networks and Security verticals. One point of call for the help you need! No more escalations between helpdesk tiers…
We don't believe in limiting your service and provide best value
Our support agreements include unlimited telephone, email and remote support.
Visits are always performed by your lead at scheduled times. This can be multiple days a week, once a month or even once a quarter. Whatever works best for you and your budget.
As a standard, at no extra cost, we provide an alerting and monitoring service with out of hours repair for core systems 24/7.
Once a month you receive a Pro Active Maintenance check of the overall system and an easy to understand management report showing you that all core systems are working and alerting you to any potential issues.
Documentation is essential. You will receive a monthly Pro-Active Maintenance Check Report, Site Visit Report after every visit and we will document your system. This information is always freely available…
2.1 Our ICT Support and Project Work for Schools, Colleges and Academies:
Network Audits.
ICT Consultancy (Technical, Strategic, Long Term or Project specific/strategic).
Network Design & Systems Integration.
IT Project Resources & Project Management (installation and repair work).
Hardware & Software Procurement.
IT Relocation & Newbuild.
2.2 Our Technical Skillset:
Networking
Network Switching (HP, Dell, Allied Telesis)
Point to Point Radio & Laser
Wireless (Xirrus, HP, Aerohive, Ignite)
Connectivity (Leased lines, Black Fibre, Broadband and SIP)
Security & Data Protection
Prevent Duty
UTM Security Appliances & Firewalling
Email Security & Archiving, including Office 365 and Sharepoint
Anti-Virus
Endpoint Protection & Encryption
Patch Management, Network Vulnerability Scanning, Network & Software Auditing
Web & Application filtering
Safeguarding & Monitoring
Remote Access & VPN
2 Factor Authentication
Backup & Disaster Recovery
Servers & Storage
Server hardware
NAS & SAN Storage
Virtualization and Mobile Computing
Server Virtualization
Desktop Virtualization/ VDI
Mobile Device Management/ MDM
Desktops/Laptops/Tablets
Desktop, Laptop and Tablet Hardware
Thin Clients & Virtual Desktops
Apple Hardware
Software
Microsoft Licensing (Schools Agreements, Cloud Services such as 365 and Azure)
Education Specific IT
Classroom Management
Pupil Safeguarding
Telephony
Telephone Lines
SIP
Hosted Telephone Systems
Cloud Services
Email Security and Anti-Spam (Proofpoint)
Cloud Backup including Office 365 and Sharepoint
Microsoft Azure (All Servers and Services) including Office 365
Mobile Boosting Solutions
Ofcom approved Mobile Signal Boosting solution
3. Managed Support Service Explained
Firstly, we do not believe in limiting your support. That's why we have only one package. You get all the service at best value. However, there are some options you can add or remove, like how many visits you have or perhaps you don't need the Strategic IT Support that we call our Virtual IT Director. Some schools also choose our DPO service and very cost-effective offsite backup.
3.1 The 'Breathe Easy' Base Package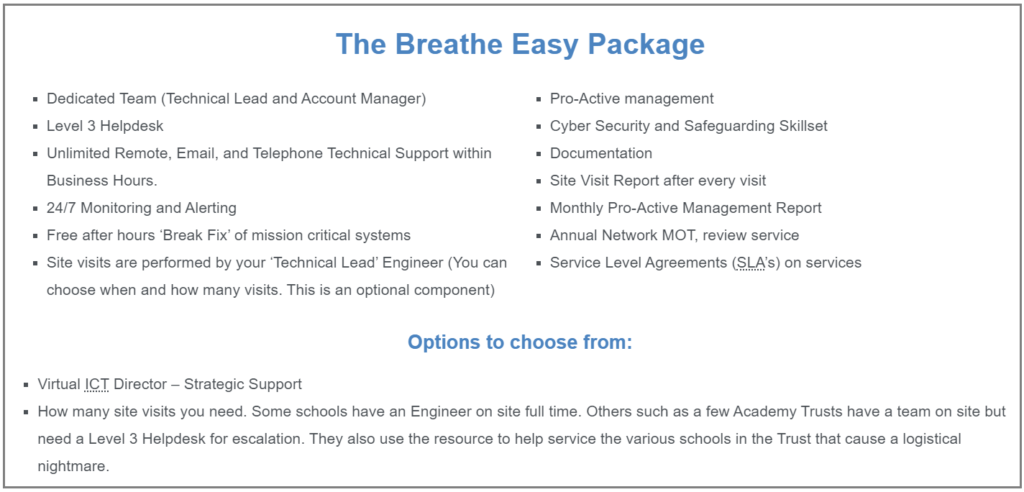 3.2 Your Dedicated Team
Dedicated Team with direct contact information, for a more personal support experience. They will know you and how you work.
Lead Technical Consultant (Min 5 years' experience, Desktop, Networks, Servers and Security skillset).
Backup Technical Consultant to cover your lead during holidays, training and sick leave.
Dedicated Account Manager for customer service and sales enquiries.
Access to the level 3 Helpdesk during business hours.
3.3 Site Visits
"Some support businesses do everything remotely. This is not us…"
We believe that support visits are essential, as some things just cannot be resolved properly without attending site. Additionally, this is how we know you and your team…and how they get to know us.
Technical Support Visits, by your Lead can be structured based on your requirements and budget. Some of our schools/academies or colleges have Quarterly, Monthly or weekly visits. Other have multiple days a week. It's up to you and your pricing will reflect this.
After every visit, you will receive a Site Visit Report, showing you exactly what we have done for you.
Your Account Manager will also visit every month or quarter depending on your preference.
3.4 Additional Features
Service Level Agreements (SLA's) on services provided
Monthly Pro-Active Maintenance check with Management Report – we don't wait for it to break
Annual Network MOT(High Level Audit)- During one of your pre-scheduled visits
Optional, Offsite Hosting of your backup if required (Requires a hosting cost)
3.5 Optional Feature: Strategic Support – 'Virtual ICT Director Function'
Higher Level Strategic Support for the Leadership Team (IT Manager/ Director, Finance Director, Business Manager).
Most organisations have a need for help with strategic planning and consultancy but not enough to employ someone at that level, full time. Never mind the associated employment cost and tight budgets.
This optional feature can be added in as part of the contract.
We offer the 'Virtual ICT Director Function', based on a Director Level Consultant, attending your site 1‑day month. Additionally, they will have an 8‑hour work allocation to work on tasks for you. This can be increased if required.
Typical 'Virtual ICT Director' tasks include:
Strategic topics like GDPR or Prevent Duty
Network Architecture and Solution Design
Great understanding of vendors and available products
A sounding board for the IT Director
Leveraging the benefits from the larger Academy Trust organisation.
Specialist understanding of New Build Projects
Budgeting, Planning and ICT Strategy
General advice and I.T. Consultancy
Audits (Network, Desktop, Security, ICT Team)
Policies and Processes such as AUP, ICO, E‑Safety, Data Breach, Change Control, Helpdesk SLA, Backup and DR Strategy
Cost reduction strategy i.e. Desktop Strategy incl. VDI
ICT Development, Procurement & Refresh
Help with Managing the annual ICT renewals and licensing
Specification writing and project management
If you find you could do with some honest, expert help and advice, we'd love to be of service. Let's talk.
Email lucy@breathetechnology.com or give us a call on 01223 20 99 20.