The perfect balance between on-premise and cloud…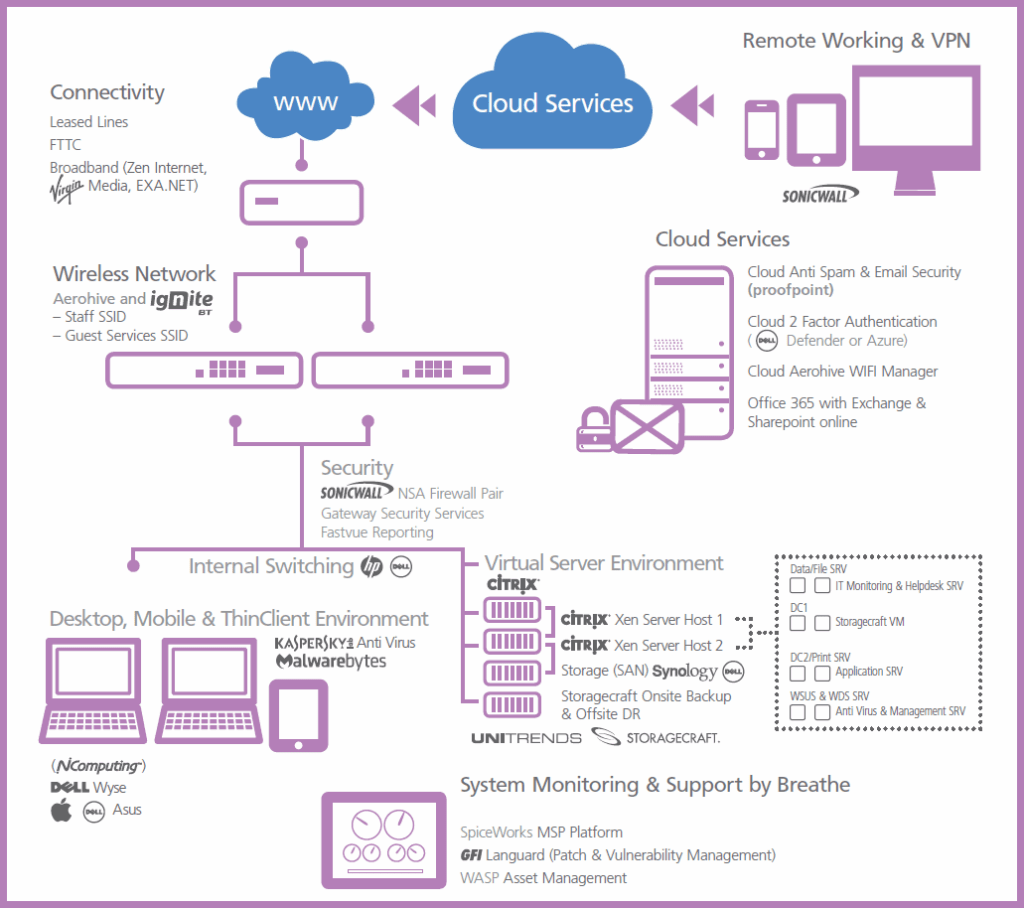 Our Templated Design-Project Methodology
We believe regardless of your organisation size or budget, there is a right way to deploy IT
Only best of breed products are used and all our solutions have been deployed many times over so we are confident of a good result.
Our consultants have extensive installation experience and Breathe hold strategic relationships with each of our vendors to ensure the highest levels of training, product knowledge, and support.
We can offer demonstrations and trials of all the equipment and software, and in most cases are able to offer trade-in discounts against existing equipment you may have.
On-Premise vs Cloud and 'The Hybrid Approach'
The biggest difference between these two systems is how they are deployed. Cloud-based software is hosted on the vendor's servers such as Microsoft or Amazon and accessed through a web browser.
On-premise software is installed locally, on a company's own computers and servers in their server room.
We have significant experience in both and partner with vendors to create either scenario.


Scenario 2: Hybrid Network
Some of our customers have a strategic approach to cloud services which allows them the luxury of avoiding the pitfalls of small businesses or small schools, where you have a single point of failure, you are tied to your premises as the IT is based there and you are responsible for maintaining, upgrading and repairing the infrastructure. The downside to this is the cost element as your monthly recurring cost will continue to grow as you use more services, functionality and storage. However, it could work very well if you are a micro business and only require email and some storage, or a much larger business with the budget to afford a system like this.
Most of our customers prefer a 'hybrid' network. This approach allows us to leverage the best of both worlds and make use of the cloud services that are cost effective and services that work really well in the cloud. An example is a basic local network (connectivity, switching, wifi, etc.) with a basic server infrastructure. This could be a single domain controller or a more complex scenario with multiple virtualized servers. An example of cloud services could be Office 365 with Exchange online for email, Sharepoint for the intranet, & file storage etc. Often hosted telephony is bundled in and could be very cost effective.


One of the UK's leading B2B Internet Service Providers with the best customer service. Breathe won the award for the highest growth partner of the year.

Virgin offers great value for money connectivity and is a household brand.

Education Specialist ISP offering the latest 'Dark Light' Dark Fibre Connections. Significantly discounted fibre for schools that works very well.


Our most commonly used network vendor. Great switching and reasonable cost. From small business solutions to enterprise equipment, it's also the household brand for the education sector. Breathe have a high level partnership and can offer great pricing and certified installations.

Premium branded switching, Wifi and Firewalls. They offer an SME range up to enterprise networking.

Often used in MOD networks and the public sector. Middle of the range pricing with great enterprise and failover features.


Breathe's favourite Wifi product offers best value pricing, great signal quality, cloud management, and full integration with firewalls to offer guest services. Installed widely in schools, university campuses, bigger SME's, corporates and hotels. Breathe have full survey capabilities too. Aerohive is the product white labelled by Dell…which says something.

Some of the worlds most powerful Wifi and a premium product. Used in corporates, large venues, universities and secondary schools.

Big power in small packages. Fully featured Wifi with cloud Management…yet incredibly cost effective. Perfect for SME's, primary schools, restaurants and boutique hotels.

Established in 2005, Ubiquiti Networks has spent over a decade manufacturing high-end, innovative devices for wireless networks. With a focus on offering exceptional performance at market disruptive prices.


Complete range of floor standing and rack servers. SME to Enterprise solutions. Breathe can offer unbeatable prices as a Premier Partner and have significant installation experience.

Complete range of floor standing and rack servers. SME to Enterprise solutions. Breathe can offer unbeatable prices as a High Level Partner and have significant installation experience.


Extremely cost effective and reliable storage that can be deployed as simple network storage, as part of a backup solution or as a high-performance SAN. As standard it comes with a 5 year warranty

Enterprise grade storage solutions and one of the main focuses for the vendor. From simply entry level NAS to Enterprise grade SAN solutions with high availability and dual controllers.

One of the best known and reliable brands of servers and storage. Everyone has had an HP SAN at some point. Today there are advanced features for cloud storage integration too.


Often used in the education sector as the licensing is included as part of Microsoft Server. A post boot HyperVisor.

Long standing HyperVisor that is very cost effective and offers a comprehensive feature set including disaster recovery.

The industry leader. A higher cost than Citrix but offers a premium product.


Leading and all encompassing solutions for reliable and secure Virtual Desktop. Fully blown VDI or session based options. Full desktop or applications can be provisioned and accessed on the LAN or over the internet. Own laptops, corporate machines or 3rd party thin clients can be used. Market leading product at competitive pricing.

Session based VDI solution that allows for a Windows Desktop Session. Uses its own incredibly well priced thin client hardware. The VSpace Management Platform licensing is included in the cost-effective bundle. Great for schools wanting a cost-effective and functional VDI solution to save money on hardware refresh cycles.

VPN client via the UTM Firewall or Dedicated VPN Appliance.

Business Continuity, Backup & Disaster Recovery

Fully featured backup and offsite DR. One application to do local backups of data, physical servers and VM's, and archive data offsite, including Office 365 backup. An appliance is available or 3rd party storage can be used such as Synology for a great but cost-effective solution.


The complete Microsoft Cloud Suite of products. Breathe is a 'Direct CSP' ensuring we can generate licensing and achieve best pricing.
Breathe Easy Cloud Telephony
A comprehensive cloud telephony platform that will cover all the functionality required by an SME or school. Offers a cost effective and functional service or for a more complex system such as a contact centre that required granular IVR functionality. Please download our brochure for more information
Breathe Easy Offsite-Backup
Offsite backup hosted in Breathe's private cloud. A cost effective service for the business and educations sectors.


Market leading and cost effective Email Security including Anti-Virus and Malware, Anti-Spam, URL Checking, and Email Archiving

With the incredible uptake of vendor cloud solutions and private clouds, we now need to have the same protection in the cloud as we do on the LAN. SonicWall therefore offers a fully featured virtual firewall to protect your data in the cloud.

Cloud to Cloud Email Backup for Office 365 and Gmail.


Gateway UTM Firewalls with IPS and Sandboxing Functionality for Zero Day Protection against the latest attacks



3rd Party Reporting Software used for reporting with firewalls and web filters. Perfect integration with SonicWall to offer technical reporting for the appliance, security reporting on firewall events and granular web filter reporting. Installed on a windows server or VM, multiple firewalls can be added to each server. Cost effective licensing is available from Breathe

Safeguarding &
Classroom Management

NetSupport School is the market-leading classroom management solution, providing award-winning monitoring, control, collaboration and assessment features to help maximise the benefits of technology-led teaching – supporting all students' learning styles. NetSupport DNA provides a comprehensive Safeguarding tool.


Market Leading Anti-Virus and Endpoint Product. Very popular in the public sector and the education sector with great public sector discounts.

Based on the award winning sentinel one platform, provides a highly secure and integrated approach when using the SonicWall Gateway appliances. A unique feature is the use of SonicWall's incredible sandboxing feature providing zero day protection against new and unclassified malware.

A great End Point Security product for SME and Mid Market businesses offering cloud management and encryption as part of the solution.

Not your traditional AV product! Became famous as an on-demand anti-malware tool that would pick up the things that your traditional anti-virus couldn't find and remove. A great complimentary tool for any network and the security conscious business owner or manager.

Patch Management & Vulnerability Scanning

Not simply patch distribution as with the standard Microsoft functionality, but rather granular inventory analysis and vulnerability assessment of all your machines. Includes Microsoft hot fixes and patch management. A great tool for security management of your devices and essential for ISO 27001/27002 Certification.


If you have a business or school laptop you really should encrypt it. Encryption is advised by the ICO and offers peace of mind in the event of it being lost or stolen. As an additional license to the endpoint security/AV product, it provides full disc encryption, file and folder and removable storage encryption. Central management is available via the AV Management Console.

If you have a business or school laptop you really should encrypt it. Encryption is advised by the ICO and offers peace of mind in the event of it being lost or stolen. As an additional license to the endpoint security/AV product, it provides full disc encryption, file and folder and removable storage encryption. Central management is available via the AV Management Console.

Bitlocker. Standard Microsoft, built-in encryption tool providing whole disc encryption. Convenient storage of the encryption keys in Active Directory.

Email Security,
DLP (Data Loss Protection),
& Email Encryption

A complete email security solution that includes data loss protection and email encryption for on-premise and hosted email solutions including Office 365/Exchange Online.


A must for remote access security. The weakest link is your password, not the systems. Simple to use mobile app and cost effective. Used in all size businesses and schools.

Integrates with all the Azure products and many other 3rd party vendors such as your appliance based firewalls including SonicWall. Cloud service with cost effective monthly billing and a mobile app or devices. Integration with Parallels VDI/BYOD included!

Sign in
(visitor / staff / student)

Designed with and for education, our fully-equipped MIS integrated solution allows you to accurately monitor who is in school at any one time. InVentry speeds up the sign in process, keeps identity information secure, and leaves schools' feeling confident that their students are safe


Breathe are the regions certified CelFi Partner. Supplying the only mobile phone boosting solution that is carrier and Ofcom approved. Cel-Fi products that optimize cellular coverage in the Education sector, Enterprise, Local Business, Hospitality & Sports, Transportation and Residential environments. Our certified, UK-based team can provide free surveys, quotations and all the technical services required to install your project.
Click here for more info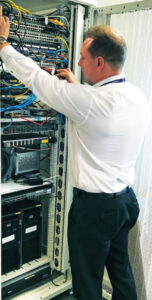 Our professional services
Sales Services – Quotations, Demonstrations and Pre-Sales Support
Hardware, software, licensing and cloud services supply
Project Services (Design and Specification, Project Management, Implementation, Technical Support)
Connectivity Surveys
Wireless Surveys
General Consultancy including Network/Cyber Security
Audits