The cyber security landscape is fluid and fast-moving. Hacking is occurring on a near industrial scale, exploiting previously unthinkable vulnerabilities almost by the second. Every new threat brings a response – often in the form of new technology. All types and sizes of organisations are exposed and have a risk.
It is not always about who would want to steal your database…
The smaller you are, the higher the risk, as larger organisations employ IT Security Experts and have more budget for top-end security systems.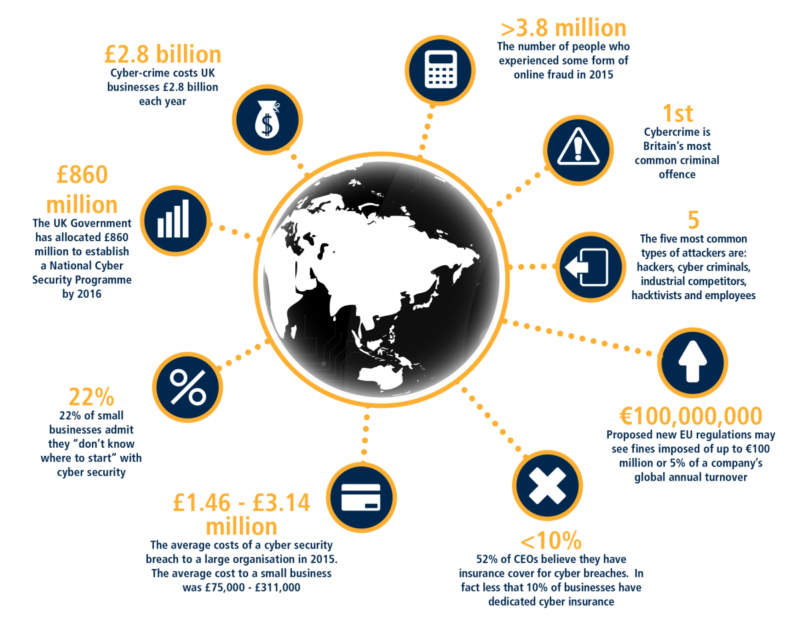 Your data could be encrypted by Ransomware and your organisation either fails or must pay a bitcoin ransom.
A data breach occurs and you suffer from reputational loss, incurring loss of trust with your customers or stakeholders.
Financial loss for the organisation or your staff. An example here is phishing emails, fake banking or PayPal websites. There might even be an https-encrypted website that looks real. Another common example is fake invoices or payment requests that look like they come from internal staff such as the MD!
Large fines by the ICO.
Damage to your systems resulting in data loss or downtime.
Blackmail, threatening to expose your online behaviour to friends and colleagues.
Based on this, Breathe Technology focusses on the security of SME and Mid-Market Businesses and public sector organisations, especially councils and the Education Sector.
Why partner with Breathe to Secure your Organisation?
Breathe have been installing security solutions and providing security related consultancy and technical services since 2003.
We hold high level vendor partnerships and are experts in these technologies.
You can get all the help you need, from quotations, advice, product demo's, design and planning, to installation and support.
We have a complete portfolio of products to address all of your security needs.
Our Cyber Security Products


Market Leading Email Security for all email solutions including Office 365 and G‑Suite. Anti-Spam, Anti-Virus and Malware, URL Scanning, Anti Phishing, DLP (Data Loss Prevention), Email Encryption and Archiving.

Scalable, cutting-edge security for multi-cloud environments. With the adoption of Cloud Services we now need to consider the same security in the cloud as we do on our local networks. Virtual Firewalls, Virus and Malware scanning. Secure workloads on VMware ESXi and Microsoft Hyper‑V.

Backup for Office 365 including Email and Sharepoint. Cloud to Cloud or Cloud to On-Premise.

Firewalls & Perimeter / Gateway Security​





Patch Management & Vulnerability Scanning


End Point Protection (Anti-Virus & Anti Malware)




Two Factor Authentication


Web Application Filtering


Security Appliance Reporting

Professional security services
It's a specialised industry and we have specialised knowledge. Not only of security best practices in general, but we have significant experiences and have deployed hundreds of solutions. Our consultants are certified by the vendors to ensure that these complex solutions are installed correctly and the configurations optimised to ensure your security.
Product Selection and demonstrations
Sales quotations, product/hardware supply
Solution Design
Implementation & Installation
Ongoing Support and Maintenance of new or existing solutions
Consultancy, Audits, and Penetration Tests
Assistance with Certifications such as ISO27001