The cyber security landscape is fluid and fast-moving. Hacking is occurring on a near industrial scale, exploiting previously unthinkable vulnerabilities almost by the second. Every new threat brings a response – often in the form of new technology. All types and sizes of organisations are exposed and have a risk.
It is not always about who would want to steal your database…
The smaller you are, the higher the risk, as larger organisations employ IT Security Experts and have more budget for top-end security systems.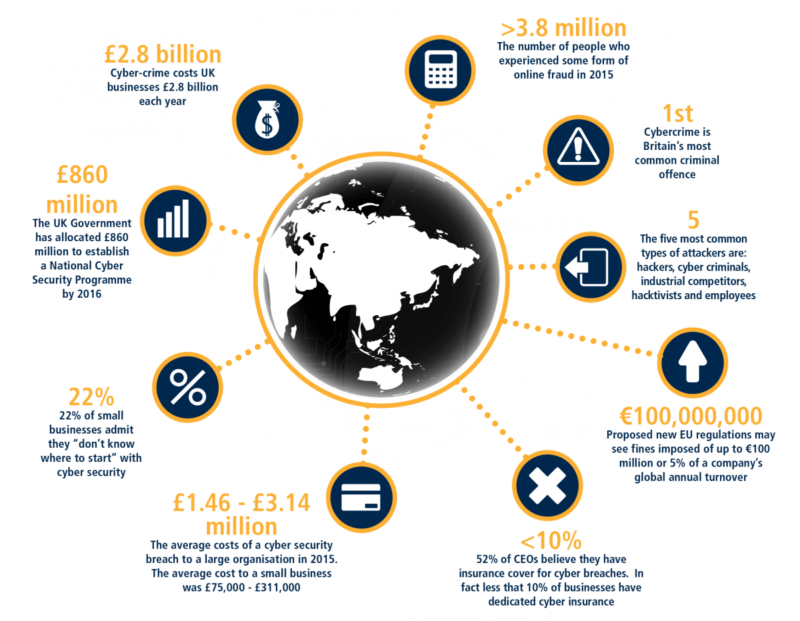 Your data could be encrypted by Ransomware and your organisation either fails or must pay a bitcoin ransom.
A data breach occurs and you suffer from reputational loss, incurring loss of trust with your customers or stakeholders.
Financial loss for the organisation or your staff. An example here is phishing emails, fake banking or PayPal websites. There might even be an https-encrypted website that looks real. Another common example is fake invoices or payment requests that look like they come from internal staff such as the MD!
Large fines by the ICO.
Damage to your systems resulting in data loss or downtime.
Blackmail, threatening to expose your online behaviour to friends and colleagues.
Based on this, Breathe Technology focusses on the security of SME and Mid-Market Businesses and public sector organisations, especially councils and the Education Sector.
Security Resources for you
Below are some resources we have made available to you for free download. The information is backed by the guidelines from the industry leading SANS Institute and from the Government backed NCSC (National Cyber Security Centre)
Headteacher caught out by Ransomware
Book your school security audit here now – one of our friendly team will call you back to confirm your booking and dates
Independent School – Parent Financial Scam
Official NCSC School Cyber Security Training for Staff – free of charge!
Please provide your details below to download our cyber security training for staff
Cyber Security Risk Assessment
- Craig van Aswegen, MD Breathe Technology
Government Cyber Essentials Booklet with advice and checklist
School sanctioned by ICO after pupil data hack
Our Cyber Security Products


Market Leading Email Security for all email solutions including Office 365 and G‑Suite. Anti-Spam, Anti-Virus and Malware, URL Scanning, Anti Phishing, DLP (Data Loss Prevention), Email Encryption and Archiving.

Scalable, cutting-edge security for multi-cloud environments. With the adoption of Cloud Services we now need to consider the same security in the cloud as we do on our local networks. Virtual Firewalls, Virus and Malware scanning. Secure workloads on VMware ESXi and Microsoft Hyper‑V.

Backup for Office 365 including Email and Sharepoint. Cloud to Cloud or Cloud to On-Premise.

Firewalls & Perimeter / Gateway Security

SonicWall next-generation firewalls give you the network security, control and visibility your organization needs to innovate and grow quickly.

Award-winning, enterprise-grade protection for SMBs and distributed enterprises in one cost-effective, centrally managed solution.

FortiGate next-generation firewalls (NGFWs) utilize purpose-built security processors and threat intelligence security services from AI-powered FortiGuard labs to deliver top-rated protection

XG Firewall offers the best protection against the latest advanced threats like ransomware, cryptomining, bots, worms, hacks, breaches and APTs

Patch Management & Vulnerability Scanning

Automatically discover all the elements of your network, scan your network for missing patches, and identify non-patch vulnerabilities with a list of 60,000+ known issues

End Point Protection (Anti-Virus & Anti Malware)

Delivers unmatched protection against unknown malware, exploits, and ransomware by combining cutting-edge technologies, such as deep learning and endpoint detection and response

Adaptive Endpoint Security solution, powered by a global intelligence network, which provides unprecedented levels of endpoint protection

Protects you against malware, ransomware, malicious websites, and other advanced online threats that have made traditional antivirus obsolete


Designed for protecting confidential information against unauthorized access and data leakage. To protect your personal data, the mechanism of Transparent Data Encryption is used

Bitlocker is an encryption feature for Microsoft Windows designed to protect data by providing encryption for entire volumes


Empower your workforce with mobility and BYOD, and simplify access management when moving to the cloud. SonicWall Secure Mobile Access is a unified secure access gateway that provides best-in-class SSL VPN, context aware device authorization, application level VPN and advanced authentication

Citrix Gateway provides secure delivery of Microsoft RDP/RDS. On establishing a full SSL VPN tunnel, users can access their remote desktops through a browser

Two Factor Authentication

Defender manages 2 factor and multi-factor authentication for identity storage and management with the scalability and security of Active Directory


SonicWall wireless network security products provide you with an enhanced wireless user experience by delivering the performance, range and reliability of 802.11ac and 802.11n wireless technologies with the SonicWave series access points

Customer-driven enterprise networking solutions that create stronger connections with customers, partners, and employees


Mobile Device Management for Office 365 helps you secure and manage your users' mobile devices like iPhones, iPads, Androids, and Windows phones

AirWatch is the leading enterprise mobility management technology that powers VMware Workspace ONE


Proofpoint Enterprise Archive is a cloud-based archiving solution that simplifies your legal discovery, regulatory compliance and end-user data access. It provides you with a secure and searchable central repository of a wide range of content types without the headaches of managing an email archive in-house.

Web Application Filtering

Sonicwall Content Filtering Service provides administrators with the tools to create and apply policies that allow or deny access to sites based on individual or group identity, or by time of day, for over 50 predefined categories

Security Appliance Reporting

Helps businesses and schools deliver useful Internet usage reports to HR, Teachers, Department Managers and Administrators
Professional security services
It's a specialised industry and we have specialised knowledge. Not only of security best practices in general, but we have significant experiences and have deployed hundreds of solutions. Our consultants are certified by the vendors to ensure that these complex solutions are installed correctly and the configurations optimised to ensure your security.
Security Risk Assessments
Security Audits
Penetration Testing
Security Consultancy
Cyber Security Awareness Training
Assistance with Certifications such as ISO27001 or Cyber Essentials
Security Product and Vendor selection. Helping you select the most suitable Security Solutions
Procurement
Implementation & Installation